Dentist in York, PA
The brief descriptions below are designed to familiarize you with our staff's training, professional credentials and work experience.
Tuan N. Thai, D.M.D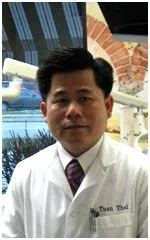 Dr. Thai became the practice owner of Colonial Dental Family Care, LLC in December of 2006. He obtained his dental degree in 2002 (D.M.D., magna cum laude) from the
Harvard School of Dental Medicine
, a leader in dental education in the United States and worldwide.
During his academic training, Dr. Thai has earned many prestigious honors and awards, including the MDS Foundation/HPSC Louis JP Calisti Award at the Yankee Dental Congress , the Harvard Medical School Office of Enrichment Research Awards, the Robert Ernest Prize for Excellence in Research Award, and the University of California, Irvine President's Undergraduate Research Fellowship, just to name a few. He also presented his research findings at the Yankee Dental Congress , the Harvard School of Dental Medicine , the Harvard Medical School Soma Weiss Research Day, and the IADR/AADR in Washington, D.C.
After Harvard Dental School, Dr. Thai completed his internship year at the University of Pittsburgh Medical Center as an Oral & Maxillofacial Surgery Resident to further enhance his knowledge and skills in dental surgery.
Dr. Thai is currently an active member of the American Dental Association (ADA) , the Pennsylvania Dental Association (PDA) and the York County Dental Society . He was recognized by the Consumer's Research Council of America as among America's Top Dentist from 2005-present. He also was listed in the Global Directory of Who's who in 2007 in recognition of his excellence. Dr. Thai actively participates in continuing education programs to remain abreast of the knowledge and skills in general and state-of-the-art cosmetic dentistry.
Besides practicing dentistry, Dr. Thai enjoys spending time with his friends and family including his wife and son. He loves traveling and enjoys art, reading, practicing and playing golf.
---
Keri Gaffney
Keri is our Registered Dental Hygienist. She's been working for Dr. Thai for 3 years now. She is a mother of three boys and spends a lot of time on football fields and at wrestling matches. When Keri is not busy with her kids on her husband, she enjoys spending time by herself. She loves to read and also write romance novels as a hobby.
Sarah Grove
Sarah graduated from York County School of Technology in 2011. She's been a Dental Assistant for two and a half years. Sarah is in the process of becoming a Certified Dental Assistant. She enjoys spending time with her dad and dog of four years, Tash. She also enjoys music, crafting, yard sales and reading.
Tonya King
Tonya graduated from YTI in 2008 for Dental Assisting. She has worked at Colonial Dental for a little over 3 years. She enjoys spending all the extra time that she is not working with her son who is 2 and her husband. Tonya spends a lot of time with her family and friends as well, and enjoys camping, traveling, shopping, cooking, watching movies.
Ashley Oswald
Ashley is our Registered Dental Hygienist. She lives in Elizabethtown but originally from Altoona, PA. She graduated from Pennsylvania College of Technology in 2009 with a Bachelor's Degree in Dental Hygiene. Ashley enjoys spending time with her family and friends. She also likes to paint and read books. Her favorite author is Mitch Alborn.